No worries. Now is the perfect time to redefine (and reorganize) your home garage storage potential with easy-to-install storage solutions. Let these garage organization projects spark your imagination.
1. Sports Center
If you're an active family, you probably have an arena's worth of sports and outdoor equipment scattered everywhere. It doesn't help that sports equipment comes in just about every shape and size. Some great ways to win this game are to:
Create a designated area in the garage for all sports equipment. Include a hamper for those "aromatic" practice and game clothes.
Design a ball corral using bungee cords, or incorporate a wheeled cart, so it's easy for the kids to move those items in and out of the garage.
Use panels, shelves, hooks, and bins to create a custom sports storage solution.
Once you have a storage solution in place, make it a challenge for the kids to keep things cleaned. Offer a reward! For example, every week they have all of their sports equipment neatly and correctly stored, they get an extra hour of screen time, or you'll treat them to their favorite pizza.

Do you or the kids have a favorite sports team? Buy a locker like pro athletes use, or go one step further and recreate the locker of a favorite athlete.



2. Tool Time
So many tools, so little time. The maddening thing about tools is that they take up a lot of room, and most of the time, they sit unused. You can't just toss them, though—you'll need them on hand for those home repairs and special projects that come up.

The best garage tool organizer is the one you create yourself because only you know what you use and how you use it. Not sure where to start? Online garage system planners can help you layout an ideal workstation, and then you can even order all your parts to be delivered right to your door.

3. The Weather Channel
The ever-changing weather results in the need for multiple tools. Garage storage projects can help you handle the different seasons by using:

PVC storage along walls for long-handled rakes, shovels, and squeegees
Panel walls and large hooks for power tools like trimmers and blowers
Hanging garage storage bins for the exchange of winter/summer clothes An umbrella stand near the door for easy access Storage sections arranged by season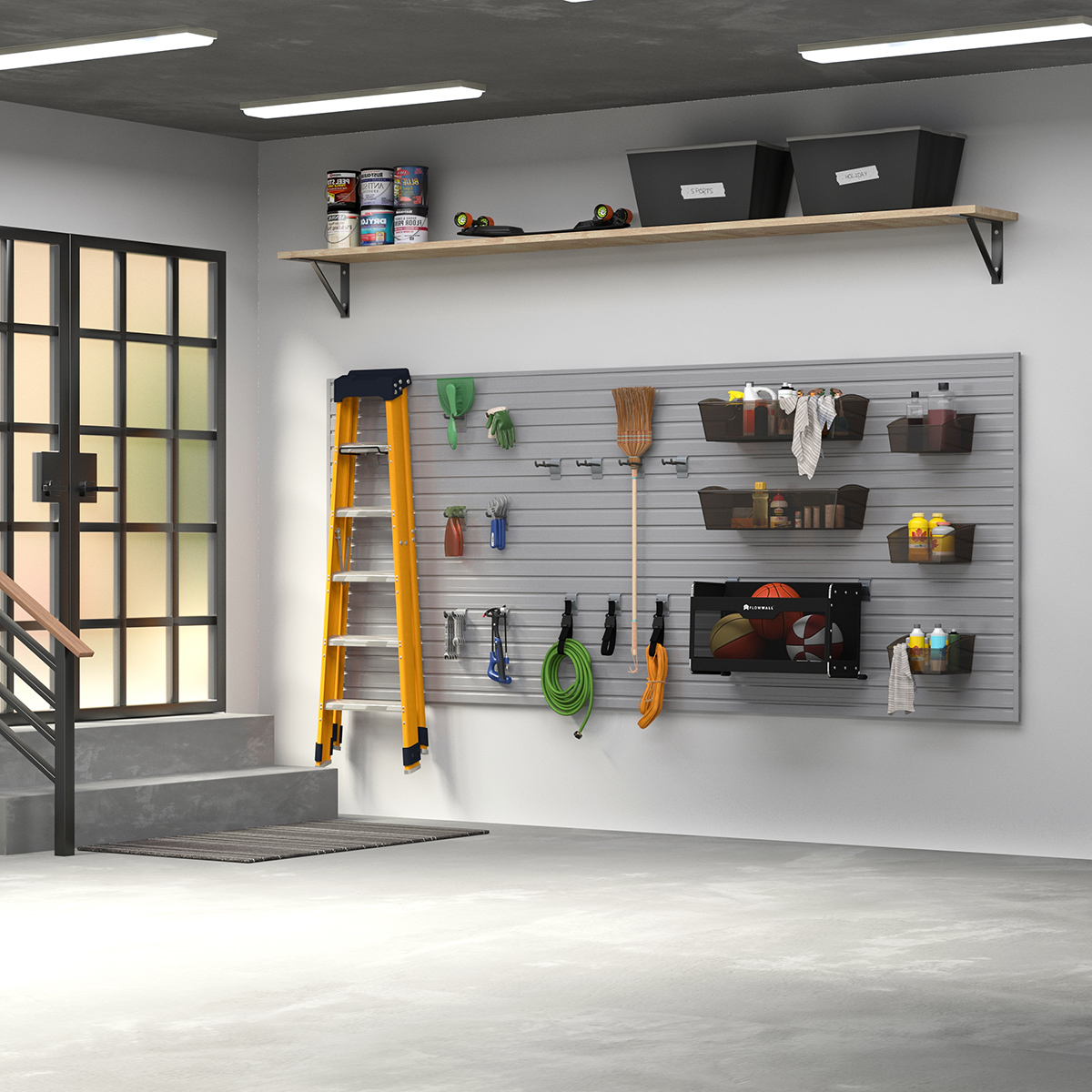 Dynamic starter kits are an excellent addition to your garage setup
4. DIY Network
Do you DIY? You'll need a spot to set aside your special tools, equipment, and materials. Carve out your niche, and then organize it with:
A panel wall with bins, hooks, and shelves for materials and tools
Clear containers for visibility
Drawer dividers to keep things neat and handy
When something isn't working right, are you the do-it-yourselfer who turns to YouTube instead of throwing it away or finding someone else to fix it? Design a spot for your tablet or phone so it's readily visible and accessible for your next repair challenge.


Check out a variety of hooks for every tool and hobby
5. Hallmark Moments
Decorating for the holidays can be so much fun, but let's face it, all those inflatables, yard signs, and lights take up a lot of room, and the garage is the only space available for them. This means installing some extra protection from water damage, insects, and rodents. Combat these issues by:
Storing decorations in airtight totes that are kept off the ground
Using shelves for easy access to your totes
Labeling those totes clearly, or even utilizing a color coordination system:
- Red and green for Christmas
- Orange and black for Halloween
- Red & blue with white labels for the 4th of July
Using desiccant bags to absorb moisture
Building overhead garage shelves for these little-used seasonal items

Redefine with Flow Wall
See a space in your home or office that could use an organizational overhaul? Whatever your storage project, Flow Wall has a system that will work for you. Easy planning, easy order, easy delivery, and easy installation—Flow Wall has it all.