There's nothing more frustrating than unused or uninviting space in your home. You're paying for that square footage, so you want to make the most of it. One spot that commonly goes neglected is the laundry room. It serves exclusively as a functional space in most homes, but if you're going to be spending hours a week doing laundry, you might as well make it an inviting place to be. Laundry rooms are often dark, small spaces that lack windows and bright light. Because they can be uninviting, the lack of light may unconsciously steer people away from their laundry rooms until they absolutely have to be there. But here are some tips for brightening up your laundry room that may change all that. Read on for our tips on laundry room decor ideas—and maybe after you implement a few, you'll be itching to do laundry more often.
1. Paint the walls
Though it may seem counterintuitive, the small square footage of a laundry room is the perfect place to experiment with bold colors such as red, orange, or a bright, cheerful blue. Try something brighter or darker than you'd usually go for, and you may be surprised how much you love your new DIY laundry room.
2. Replace light bulbs
One of the first things you should look into is simply replacing light bulbs. Lights can grow dim over time, and you may even be able to increase the wattage to brighten the room. Be sure to use energy efficient bulbs if you aren't already.
3. Get attractive containers for your supplies
Thanks to the internet, there are plenty of options for aesthetically pleasing storage. Look for clear jars to store detergent and more attractive bottles to contain sprays and liquids.
4. Put photos on the wall
The laundry room isn't usually a place people think to hang photos, but a few frames on the wall can go a long way to brighten up the space. Look for colorful floral prints, bold graphics, or family photos.
5. Install windows
Change up a particularly dark laundry room by investing in a small window or two to bring in some natural light.
6. Add shelving
Shelving is an opportunity to add dimension and a decorative element to your room. Open laundry room shelving or other laundry room storage ideas can be used to store supplies and add a few fun touches like photos or pretty knick-knacks you'll enjoy seeing when you enter the room. You can also install laundry room wall cabinets to hide the items you store in the room.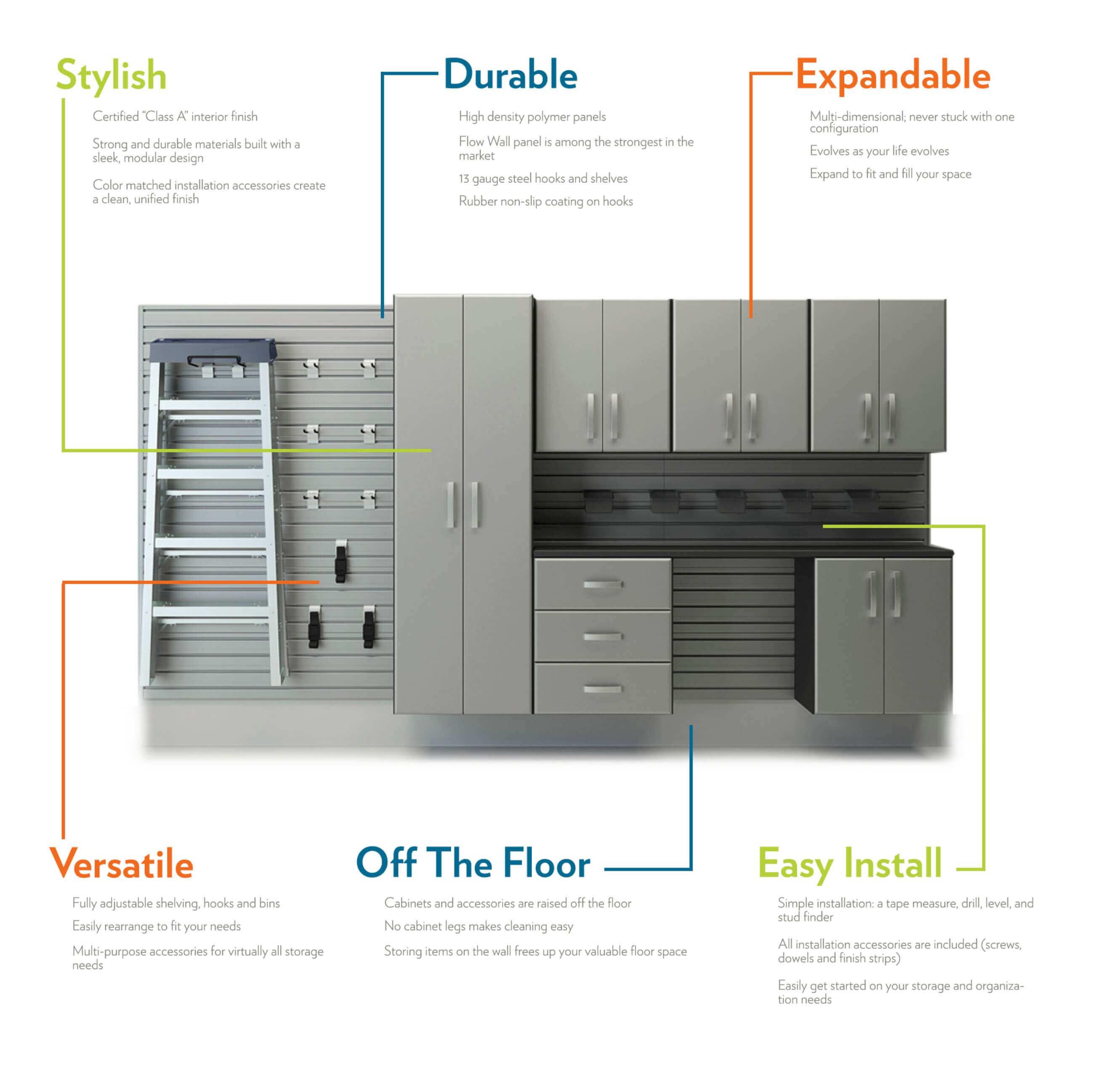 7. Use wall hooks
Hooks are a great way to inexpensively fill up a blank wall, and they also serve as an excellent storage spot. Install wall hooks to store hats and coats, or use them to dry laundry.
8. Get rolling laundry baskets
Rolling laundry baskets add a vintage/French flair that is sure to make your laundry room more aesthetically pleasing. They're also helpful for heavy loads and serve as a beautiful decorative element for your space.
9. Paint cabinets
Even if you don't want to paint the whole room, try painting the cabinets a neutral or bold color to give a fun laundry room makeover. Check out Pinterest and other home design sites for some inspiration.
10. Wallpaper
We talked about laundry room paint already, but we also love the idea of using a bold wallpaper in a small space like a laundry room or powder room. You can be more daring because it's less square footage and doesn't get as much foot traffic.
11. Redo flooring
Many laundry rooms come with linoleum or worn carpet. Freshen up the room with unique tile or herringbone hardwood.
12. Add mirrors
Mirrors are always a great way to brighten and enlarge a small room. Hang a giant mirror on one wall or group together many small mirrors for a fun effect.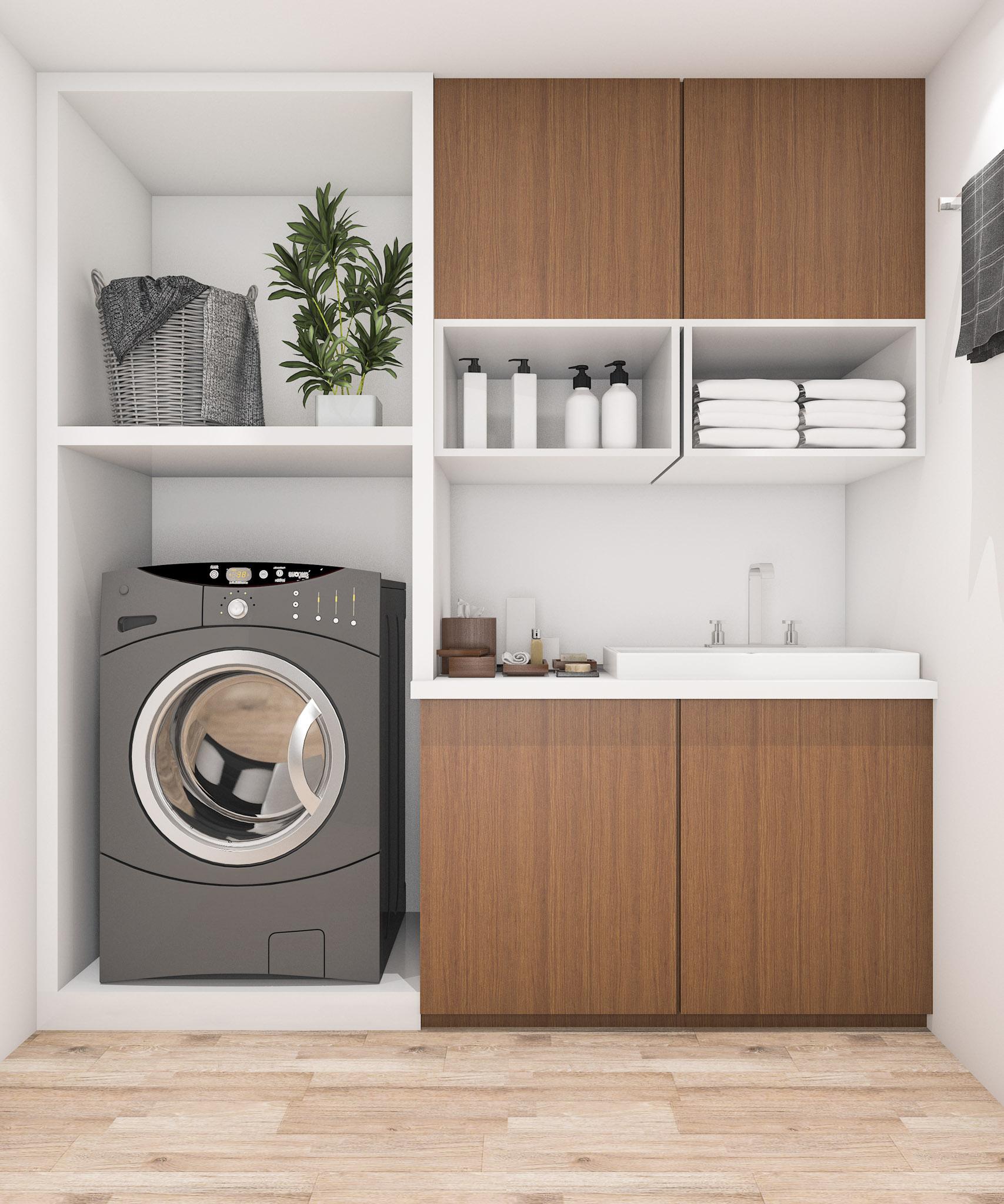 13. Decorate with rugs & other accents
When all else fails, add a rug. Vintage rugs are all the rage right now, and the laundry room is a great place to bring one with a splash of color and pattern.
14. Hide the washing machine & dryer
Curtains, custom storage cabinet with doors, or wall storage cabinets are a great way to make your laundry room look a little less utilitarian. By hiding these machines, you'll make the space more inviting and homey.
15. Add a unique chandelier
We already talked about lighting a little bit, but if you're really wanting to make a statement, try adding a large chandelier to your laundry room. Some people think the laundry room is too casual of a space, but a chandelier will do wonders for brightening and adding interest. No matter what steps you take to brighten up your laundry room, make sure you give it your own flair. With a little work, your laundry room can be a favorite stop when you give guests the tour of your home.